All Prices include Carriage UK mainland
Available during my shutdown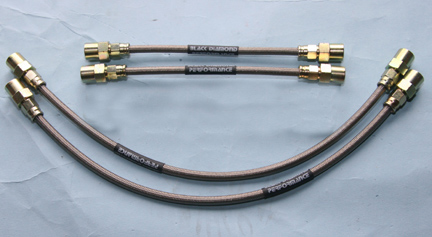 Black Diamond high performance braided stainless brake lines
won't expand like rubber brake lines giving a more responsive braking and reduced braking distance
4 piece brake line kit 1973-79
£ 69.95 inc VAT and UK Mainland delivery


Since their launch in 1992 the Black Diamond performance brake disc and pad range has gone from strength to strength.
The first fast car test in 1995 in which black diamond was awarded the win against all the other major brands,
it became clear that all the design and testing work prior to the launch was so very worth while.
The 24 groove disc, the groove shape and profile and the post machining heat treatment all playing their part in making this product a world beater.
VW T2 bay 1973 -79 1 x pair front
£ 189.95 inc VAT and UK Mainland delivery


VW T2 Bay window Predator brake pads
An ultra low dust high friction, high temperature compound with a heat transfer layer next to the backing plate
to transfer heat away from the disc and pad enabling operating temperatures of slightly over 520deg with no fade at all.
Black Diamond predator pads complement the black diamond disc range perfectly or if you wish you can gain extra
braking performance by using the black diamond predator pads on their own with standard discs
£ 49.95